Skills for Chronic Disease Management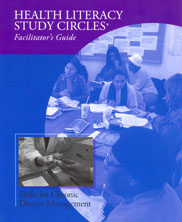 The goal of this 15-hour study circle+ is to prepare participants to help their students develop basic skills needed for chronic disease management. These skills include reading medicine labels, following directions, and measuring dosages correctly; using measurement tools to monitor health; monitoring symptoms and talking to health care professionals the observations; and making critical decisions about health care.
Skills for Chronic Disease Management
is available
online
or in hard copy with a $25.00 fee to cover shipping and handling. Rudd, R., Soricone, L., Santos, M., Zobel, E., Smith, J., and Lawrence, W. NCSALL Teaching and Training Materials. World Education, 2005.