Integrating Technology into an 8-Week Pre-Employment Program
By Leanne Ovalles
Making Technology a Priority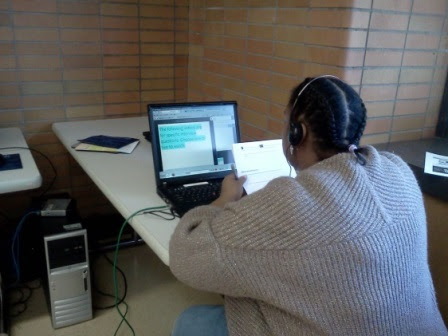 Student engaged in the Interview Lesson utilizing Blendspace
Although I had wanted to integrate more technology into my 8-week pre-employment class for some time, it seemed that other tasks always took priority. Last year I decided to participate in the NELRC/World Education Technology Integration Project (TIP) which ran from October 2014 through May 2015. As I had hoped, this course provided me with the structure, knowledge, and support that I needed to identify appropriate tools and develop lessons that made sense for my program.
Why I wanted to Integrate Technology
In my pre-employment class the students generally have one main goal, which is to secure employment. However, they are typically at very different stages in their readiness to do so. Furthermore, students come with varying levels of work experience, education and technology skills. Therefore, in addition to enhancing my students' understanding of the learning objectives (such as career exploration and interviewing skills), my goals in using technology were to increase student persistence by having more engaging lessons, expanding my ability to offer differentiated instruction and encourage independent learning. I also wanted my students to get excited about using technology and to be able to use it outside of class for their own personal use.
The Tools I Chose to Use
After researching a number of websites and learning about different tools, these are the tools I chose to help me fulfill my objectives:
Interview Lesson using Blendspace https://www.blendspace.com/ – I chose this tool to collect web resources about interviewing to share with students and to sequence the resources for independent work. I liked that this tool did not require students to sign in, so even my low level students could easily access the lesson. I chose not to use some of the 'cool' features of the website because I felt it would hinder rather than enhance my students' experience. For example, rather than use the option of embedding activities such as comprehension questions, charts and checklists in the on-line lesson and requiring students to type answers (which is painfully slow for some), I created a hard copy handout for students to write their answers.
Eyejot http://corp.eyejot.com/ – I chose to use Eyejot, a video messaging application, to record the students' 30 second commercials about themselves. I chose this tool because it was simple to use and students could easily email their recordings to me for feedback.
Life Reimagined Website http://lifereimagined.aarp.org/ - I chose this website because it has a number of simple online courses (that are completed over 5-7 days) that involve self-awareness, career exploration and job searching as well as a number of other topics such as relationships and well-being. I thought it would be a great way to keep students engaged in the type of content we usually cover and at the same time introduce them to a self-directed online learning resource where they could explore many other topics of interest.
The Results
Although there are some things I would do to improve these lessons, I believe I achieved my objectives. Throughout the process:
Students were very engaged and were able to work independently to use the tools.
Students really appreciated being able to go at their own pace and choose what they wanted to spend their time on.
Students understood the concepts much better by utilizing these online resources.
Students were able to access the resources outside of class. Students who were absent were able to complete assignments on their own and students were also able to use the resources for their own interests – for example: one student went on to take a course about relationships on the Life Reimaged website.
Without a doubt, being part of the Technology Integration Project was an amazing learning experience that opened my eyes to the endless possibilities of integrating technology into my classroom. Since my work on this project, we have redesigned our pre-employment program (now called "Roads to Success") and are utilizing technology to offer more individualized, self-guided learning opportunities for our students.
Leanne Ovalles has over 20 years' experience in Adult Education and holds a Master of Arts in Teaching. She is currently the Workforce Development Supervisor at Crossroads Rhode Island where she oversees job training programs, develops curriculum and facilitates the '"Roads to Success" pre-employment program for individuals at risk, or experiencing homelessness.

To hear Leanne and others describe their lessons and share their lesson plans, visit the New England Literacy Resource Center's TIP Project Promising Practices.

Hint: Leanne's Promising Practice is number 7!