Improving Health Care Management in Laos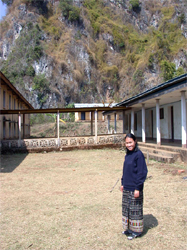 "I became head of the Medical Training team after learning to be a trainer with the War Victims Assistance Project," says Dr. Lounethong. "When the project transferred responsibilities to the province in 2002, I was very pleased because improving medical skills depends on learning new skills."

Through World Education, Dr. Lounethong received training in all aspects of program and training management, from determining the needs of learners (doctors and nurses), to coordinating the trainers and evaluating training effectiveness. She also participated in World Education's Training of Trainers activity, to strengthen and improve her own training skills using participatory adult learning methods. "At the beginning, I conducted trainings with help from Project staff and trainers from Vientiane. Before long, I was conducting the training by myself. Now, I manage and supervise all training activities of the Provincial Health Department.

"Management is a new skill for me. Before taking on this role as head of the Training Unit, I had not had an opportunity to manage activities. Now I manage my unit. I have learned to plan activities, monitor progress and make changes when things do not go as planned. I learned all this through training and also through the project activities. Without the victims' assistance project, I would not have this chance. Before, I only followed orders from my superiors. Now I plan my own activities to fit with the Department's master plan. I'd prefer working this way."

A native of Houaphan province, Dr. Lounethong received her medical training at the provincial hospital during the war. Later she was transferred to work at the Mother and Child Unit at the province hospital. An energetic woman, Dr. Lounethong is interested in learning new skills and always seeks to improve herself. She talked about the impact of the War Victims Assistance project on the provincial hospital: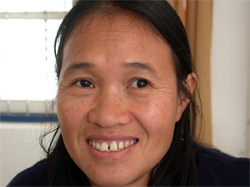 "The Improving Trauma Care Project has improved the quality of services in the provincial hospital. One example is nursing services at the hospital. Before the project, nurses only followed orders from doctors. When doctors were not around, the nurses had nothing to do. It was very difficult for patients to get any service directly from nurses without consulting a doctor. After an intensive training in nursing skills, nurses have learned their roles and responsibilities. Now they don't sit around and wait for orders from doctors anymore. Among other things, nurses at Houaphan Provincial Hospital now take care of minor cuts, pressure taking, giving shots, etc. These were the things that were entirely taken care of by doctors before."

"There has been very little assistance in the area of curative medicine especially in the capacity building of medical staff in hospitals in Houaphan. Few people from the health department received grants to go study in Vientiane. Unfortunately, the hospital staff rarely have that chance."

The comprehensive package of medical and management training, complemented with donations of equipment and essential hospital repairs has improved the chances of patient survival after a UXO accident. The improved quality of care has shortened the time that a patient is hospitalized, and by improving the capacity of provincial staff to assist UXO survivors, fewer patients have to be separated from their families for hospitalization in Vientiane.
Related Projects: War Victims Medical Fund (1996-2018), Improving Trauma Care (2012-2014)