Helping Children Orphaned and Injured from UXO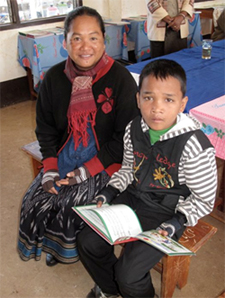 Thao Ooh is an 11-year-old boy from the Champasak Province in southwestern Laos. On August 11, 2008, Ooh's father was dismantling a bomb under his home when it exploded. His father and two siblings were killed, and the house was destroyed. Ooh, his stepmother, and 15-year-old stepbrother were all severely injured, and were rushed to Champasak Hospital. His stepmother had an open leg fracture, and his stepbrother had shrapnel injuries. Ooh's injuries were more serious, and included open fractures of both lower legs, shrapnel injuries around his eyes, and a piece of shrapnel lodged very close to his heart.

Between 1964 and 1973, during the height of the Vietnam War, more than two million tons of bombs were dropped in Laos. Up to a third of the bombs (also called ordnance) that were dropped on the country did not explode, and they continue to maim and kill people when disturbed. Approximately 25% of all communities in Laos are contaminated with unexploded ordnance (UXO). Hundreds of people are injured or killed in UXO accidents each year, and survivors often suffer severe abdominal, chest, hand, arm, and head injuries, which all require extensive surgery and post-operative care.

About half of all UXO victims are children, who find the ball-shaped "bombies" while playing near their homes in rural communities. Between 1973 and 2007, at least 13,000 people were severely injured or killed by landmines or UXO in Laos.

The cost of medical treatment for Ooh's injuries was covered by the War Victims Medical Fund, administered by a committee established by World Education and provincial Departments of Health in Laos. Since 1996, this group has provided treatment funds for UXO survivors. The fund supports the cost of medical treatment, transportation, and a living allowance while the patient is in the hospital. If additional treatment is needed after the initial hospital stay, the fund also covers these costs.

After two months in the hospital, Ooh returned to his village, but his stepmother and stepbrother relocated and he was unable to find them. Thus Ooh was left on his own. Well enough to return to school, Ooh needed a place to live, so during the first four months of the school year he boarded with his fourth grade teacher. Unfortunately, with five children of her own to care for, the teacher could only care for Ooh temporarily.

World Education coordinated with province authorities to place Ooh with another family in Vientiane where he lived for three months. Ooh played with other children, although he still had some pain from the metal plates used to fix his leg fractures. As a result of the injuries around his eyes, Ooh has some trouble seeing as well, so he now wears glasses to help his vision.

Despite these physical difficulties, Ooh continued in primary school, where he tested into the fifth grade, skipping one year, and today he attends a residential high school in Pakse.

Operating in five provinces throughout Laos, in 2008 the War Victims Medical Fund paid for the treatment of 74 people injured by UXO. The fund is managed by a working group consisting of a provincial hospital surgeon, a nurse, representatives from district hospitals, World Education staff, and a finance officer, who together make decisions about fund policies and criteria for use. The fund is partially supported by the McKnight Foundation and the U.S. Department of State Office of Weapons Removal and Abatement (WRA), as well as donations from private individuals and community groups.
Related Projects: War Victims Medical Fund (1996-2018), UXO Education and Awareness Project (2011-2017)