On The Frontlines of Girls' Education
When I go out to the communities, I see young girls who are orphaned, sick, forgotten. The Scholarship Program gives the neediest and most promising girls the opportunity for a different, better life."
– Mariama Koulibaly, National Coordinator for World Education's Ambassadors' Girls' Scholarship Program (AGSP) in Guinea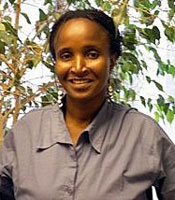 When civil unrest erupted in Guinea in January, 2007, the ensuing strikes and curfews preempted school and work. Yet Mariama Koulibaly, the National Coordinator for World Education's Ambassadors' Girls' Scholarship Program (AGSP) in Guinea, and her World Education colleagues forged ahead. But it was not always easy. "The strikes and curfews created two main problems for the girls and the program staff: school was interrupted, and we couldn't get to our communities. And when school is stopped, the girls fall behind," Mariama explains. Now that the situation in Guinea, where 7,500 girls attend school with support from AGSP, has returned to normal, "we hope to increase the frequency of study groups and tutoring so that our students can get caught up," says Mariama, an expressive and committed woman who has a contagious enthusiasm for her work.

Mariama's experience growing up laid a poignant basis for her life's work. The youngest child of six, Mariama went to live with her grandmother when she was two years old after her father died and her mother no longer had the time or money to care for her. "My grandmother made sure that I went to and stayed in school because, she said, as an orphan, I would always need to take care of myself. This was almost 30 years ago, when most other girls weren't able to go to or stay in school. I knew I was lucky so I worked hard and was always at the top of my class. Now I demand the same of my own daughters, who are 9 and 11."

Indeed, for the majority of African girls, education can make the difference between a life of poverty, low status and exploitation, and one of opportunity, in which girls can make educated decisions about their own futures. Through AGSP, World Education and partners support 73,000 girls who are economically disadvantaged, disabled, or HIV-affected or infected, in 13 African countries. The program provides comprehensive support for girls' education in the form of scholarships, mentoring, and parent and community awareness programs to promote and support girls' education for the duration of primary school.

The Guinean government, for its part, is very welcoming of AGSP because World Education is helping to educate an upcoming generation of women. While it is still true that when there is not enough money for all children in a family to go to school, boys often will get to go to school while their sisters will work in the fields, tend younger children, or get married off early. But this is changing, Mariama says, in no small part from AGSP's work to educate parents, communities and policymakers about the importance of educating all children.

The girls in AGSP are taught that they can do almost anything. "We take girls to meet women who are doctors, pilots and bank directors, so that they see that they can become anything they put their minds to. We just provide the inspiration and expanded horizons."
Related Project:
Ambassadors' Girls' Scholarship Program (AGSP) (2004-2011)