A Virtual Meeting With Scholarship Recipients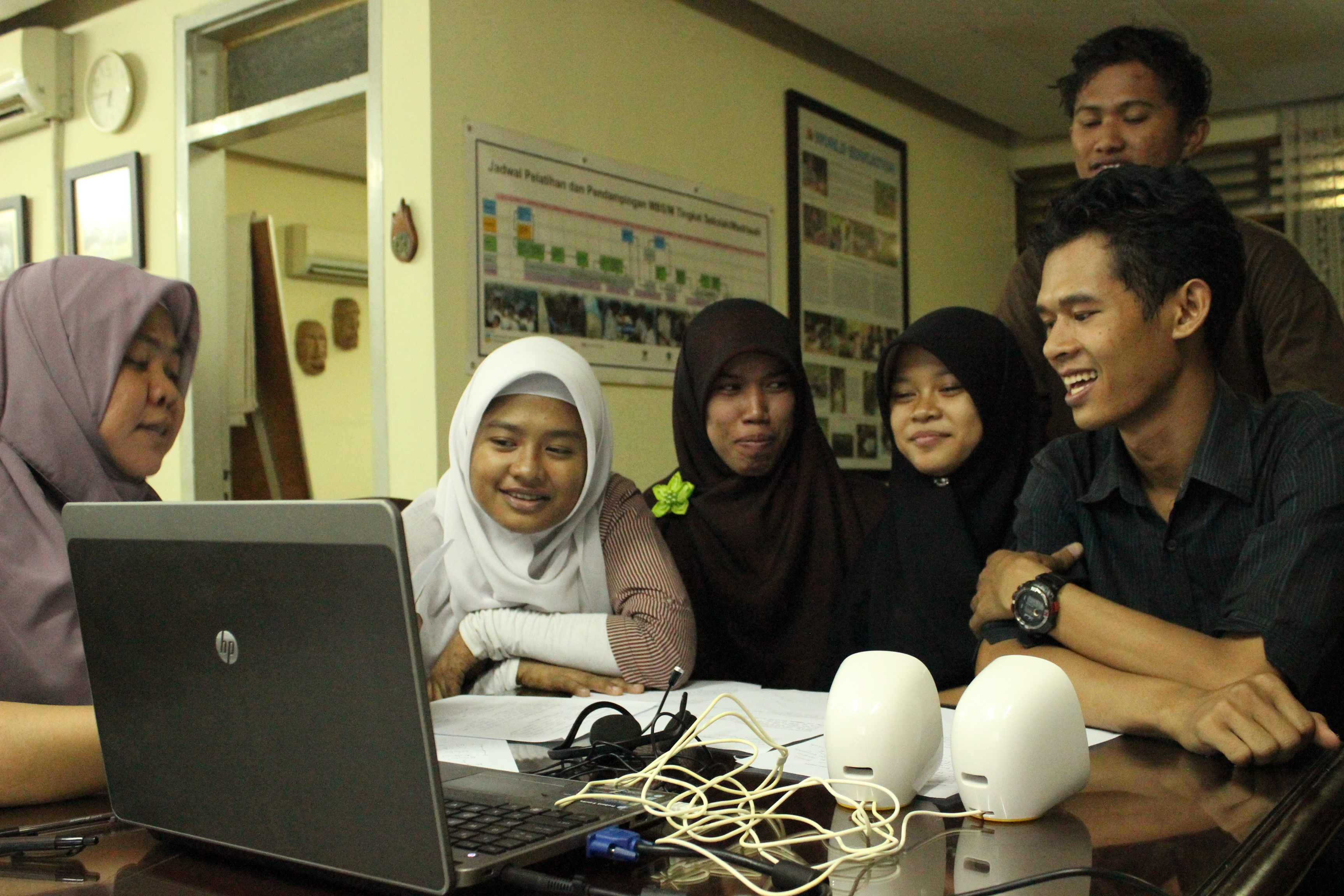 ConnectEd students in Indonesia recently had the opportunity to meet and learn from an Alcatel-Lucent Foundation board member, Christine Diamente, who is also Head of Brand and Corporate Sustainability at Alcatel-Lucent. Four students gathered in Jakarta for the video conference call on September 15: three are university students, made possible through a scholarship from Alcatel-Lucent to ConnectEd students, and one an intern at the local Alcatel-Lucent office.

Christine welcomed the students and congratulated them on their accomplishments. "I am very proud for the students, as now they not only have the knowledge but also the life skills to enter the world of work."
Roqib Bayni, Project Officer for the ConnectEd Program at YABIM, a local NGO, thanked Christine for her work advocating for the youth supported by ConnectEd, many of whom are from disadvantaged families.

One of the students, Agus Niyanto, shared his own story of dropping out of school at age 14 and becoming a domestic servant. Through ConnectEd and its partner YABIM, Agus was able to re-enter education and break stereotypes by earning good grades. "ConnectEd has allowed me to go on to higher education," he said, explaining that thanks to his own determination, the support of ConnectEd, and a generous scholarship from Alcatel-Lucent, he is now a student at Universitas Negeri Jakarta studying Sociology.

Sri Mulyani, another student on the call, was able to attend university because of an Alcatel-Lucent scholarship. "ConnectEd helped me improve my self-confidence," she said, sharing how lucky she feels for being given the opportunity to continue to higher education. Sri dreams of creating a free school for other marginalized children in her hometown of Bandung, West Java after she graduates.

There was a lot of admiration from the students as Christine shared some of the life lessons she has learned. She reminded them how technology can be an important tool for their success, whether they are in school or pursuing their post-graduate career goals, and she shared that "creating innovators in the digital world" also happens to be the Alcatel-Lucent Foundation's new mission.

The four students left the conference call full of motivation and strengthened ambition, with Christine's words of advice ringing out loud and clear: "Love what you do." The interaction ended on a high note, as Christine emphasized that passion engenders support, and that if you pursue your passions, others will help you to succeed.
Related Project:
ConnectEd (2011-2015)