Learning to Read with 'Little Books'
"Sometimes we sing in class—that's helping me to learn to read now," says 7 year old Maifa, a third grade student at the Escola Primaria Completa dos Limoeiros (Limoeiros Primary School) in Nampula, Mozambique.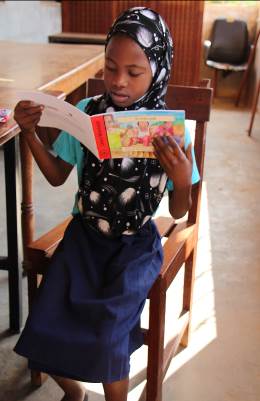 Seven year-old Maifa has learned to read using the simple decodable books and new teaching approaches implemented by the USAID | Aprender a Ler project.
Photo by Penelope Riseborough,
World Education, Inc.



Singing is just one of the strategies used by the USAID|Aprender a Ler (ApaL) project to help children in early grades learn to read. "I like the 'little books' – known as decodables - that I can take home and read with my friends," says Maifa. She also enjoys the variety of books students can access in their classrooms. "I like the cat and the mouse book the best," she continues, referring to one of the Leveled Books developed in 2015.

The USAID|ApaL project has introduced a new approach to reading, which includes simple and effective teaching routines, simple books that help with decoding and vocabulary to increase comprehension, and various activities to engage the children in class.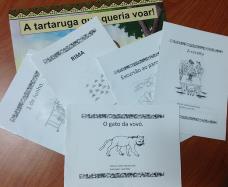 World Education has produced 18 black and white decodable books for less than 2 cents each, and distributed them to students in more than 1200 schools across 14 districts in Mozambique.
Aprender a Ler has produced 18 simple decodable books with compelling stories that the children enjoy, 12 leveled readers to allow children to progress at a more individualized pace, and 18 read aloud books. They have distributed 4.6 million books to more than 331,000 students in 1,214 schools across Nampula and Zambezia provinces.

"I want to be a nurse when I grow up," says Maifa. "I know that now that I am learning to read, I will be able to be a nurse."