Opening Homes and Hearts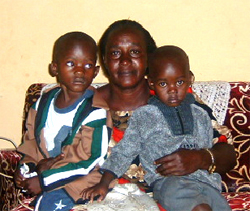 Euleria Kamya recalls the day she went to Mityana Kolping House to receive two young children, the five-year old boys who were to be new members of her family. "I was scared" says Euleria, "not because I doubted my parenting skills, but because I was not sure I could give these boys the future they deserve; to grow in a loving environment and to become productive and responsible citizens."

On that day, Euleria and over 40 other women received orphaned children of deceased relatives or other members of their community. The women had been trained in foster parenting by Kolping Women's Project.

Euleria and the boys reached home and were welcomed by other family members. "The first cow I would ever own was coming soon and I had mixed feelings—feelings of happiness to have a source of financial support to help raise the children and feelings of anxiety about the skills I had just acquired on zero grazing." Euleria's worries turned out to be unfounded: she now has five cows and a poultry project.

"Because of the Kolping Women's Project, I can now afford to educate, treat, and feed the children, and I feel more confident that these children will have a bright future," she says.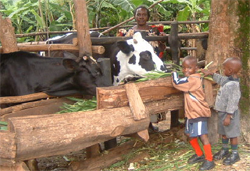 Kolping Mityana Women's Project was established in 1995 by the International Kolping Society through a German NGO, Kinder Mission Wark, in partnership with the Catholic Diocese of Mityana. Kolping Mityana Women's Project started by supporting 45 orphans to be taken into foster care by families in the community. The project received two grants through the AIDS/HIV Model District Programme (AIM). In 2003 and 2005 this support enabled the project to place another 350 orphans into more than 58 households in the community. To date Kolping Mityana Women's Project is responsible for supporting 500 orphans. "Our goal is to make these households self-reliant and to provide orphans with a family environment where good social and cultural values can be instilled," says Margaret Kawooya, a Kolping project coordinator.


The AIM support has included family support and care for the orphans and vulnerable children in Bulera sub-county, Mityana County in Mubende district. This support included school fees, medical care, uniforms, and scholastic materials, as well as cattle, poultry and piggery projects. The Kolping Project also received bicycles and a motorcycle to facilitate their field activities and a computer, printer and photocopier for the Kolping office. Foster parents were also trained in life skills, management, and resource mobilization.

But challenges remain, acknowledges Kawooya. "At times these children are not treated well, but we keep monitoring and guiding foster parents." And many more children need support from projects like Kolping Women's Project. "Resources are limited and the number of orphans is growing daily. We plan to expand the revolving fund given to the foster families to more OVC households." It is a worthy endeavor: as they've shown in Kolping, a small investment and warm hearts can transform the lives and futures of orphans and vulnerable children.
Related Project:
Uganda HIV/AIDS Integrated Model District Program (AIM) (2001-2006)