Educating and Inspiring Girls in Africa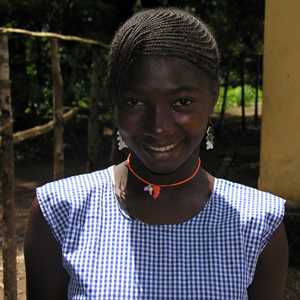 This young girl is just one of thousands of African girls in school with support from World Education.

"The scholarships have encouraged us to study! We used to be behind the boys, now we're ahead!" commented a 13 year-old girl in Timbuktu, Mali's poorest and most isolated region.

Last year, World Education helped 21,000 girls in 12 African countries go to school through the Ambassador Girls' Scholarship Program (AGSP).

In Northern Mali, in the desert communities of Timbuktu, Kidal and Gao, 5,088 girls successfully completed the school year with World Education's support. Despite enduring the long, often barefoot walk to school, their enthusiasm is palpable. "With extra coaching from the teachers, especially for math, we can do more difficult problems," said one young student.

Teachers were also thrilled with the results: "Attendance has improved and the girls like school. For the first time ever, a girl was at the top of her class," exclaimed a teacher at one of the primary schools. Mothers, most of whom never had the chance to go to school themselves, were equally pleased and have re-organized the household chores to allow their daughters time for homework. Girls' passing rates in the region increased by nearly 30% and simply by finishing the 5th grade, these girls are reaching well beyond the expectations of traditional female roles. Girls who are educated tend to marry later, raise fewer children who are healthier, and support education for their all of their children-all of which contribute to alleviating extreme poverty.

World Education, in partnership with local organizations, trains local professional women to serve as mentors for the girls. The mentors focus on the importance of education, HIV and AIDS awareness, reproductive health and community involvement. The goal is to link girls with role models who live in their communities and who can support, advise, and inspire.

Over the next four years, World Education will help girls go to school in 15 West African countries, including Benin, Burkina Faso, Cape Verde, Cote d'Ivoire, the Gambia, Ghana, Guinea, Guinea Bissau, Liberia, Mali, Mauritania, Nigeria, Senegal, Sierra Leone, and Togo. The scholarship program targets girls who are affected by HIV and AIDS, are homeless, orphaned, disabled, and whose families live in abject poverty.

The Ambassador Girls' Scholarship Program is part of the United States Agency for International Development (USAID)-funded Africa Education Initiative, which supports girls' basic education programs in over 40 African countries.

Related Project:
Ambassadors' Girls' Scholarship Program (AGSP) (2004-2011)