Helping Girls Stay in School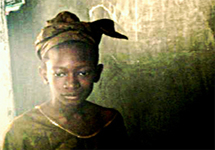 Before the Ambassadors' Girls' Scholarship Program (AGSP), 11-year-old Badji Traoré was following in the footsteps of her older sister. Badji explains, "My older sister went to school through sixth grade, but then dropped out because she was not encouraged by our parents." After the fourth grade, Badji dropped out of school because she had too many responsibilities at home which left her with little time to study. She would often help her mother sell small condiments door-to-door or at the market. Badji cooked and did the laundry, which sometimes meant she had to go to the fields to look for firewood. At the time Badji only had two textbooks at home math—reading and math—which she shared with her brother. Living in a rural village without electricity meant that Badji had to go to a friend's house to study because her family only owned one lamp for everyone's use.

Today, Badji is in the sixth grade at the Sidi Mahmoud School in Timbuktu, Mali. This is her second year as an AGSP scholar. Badji's school was one of 118 schools in Mali selected by the community to participate in the AGSP. The program has provided her with books, notebooks, school uniforms, geometry supplies, pens, a slate, and a school bag. She also participates in remedial classes and study groups designed specifically for AGSP scholars. When asked how she feels about the AGSP, Badji says, "when I learned that I was at a school benefiting from the AGSP, I was very happy. I knew that as an AGSP scholar, I would have all the materials necessary to improve my study conditions."

"It is because of the scholarship that I was one of the top three students in my class both last year and this year," Badji says. At home, she now has more time to study because an AGSP partner NGO staff member spoke to her mother on the importance of balancing chores and school work. Local women who have completed their schooling have also visited Badji's school to encourage the girls to study and to stay in school. "Both in school and at home, people appreciate me because they see the efforts I put into school," Badji says. "I will take the seventh grade entrance exam at the end of this school year. I will do all I can to pass the exam because staying in school is my dream. When I grow up, I want to become a doctor so that I can save many people's lives."

By program end, more than 14,000 scholarships were awarded to girls throughout Northern Mali.

Related Project:
Ambassadors' Girls' Scholarship Program (AGSP) (2004-2011)