IDEAL Distance Education and Blended Learning Handbook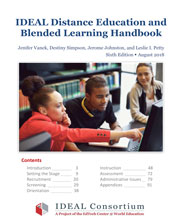 In the new 5th edition of the
IDEAL Distance Education and Blended Learning Handbook
(2016), the chapters have been revised to reflect changes and innovations in the field, in particular, the emergence of blended learning. Key topics include:
Recruitment: Identifying and Recruiting Students
Decide who, where, and how to find learners for your distance or blended learning program
Screening: Determining Who Is Ready for Distance and Blended Learning
Identify which learners you can successfully support
Orientation: Setting Up Learners for Success
Design an orientation that provides students with the necessary information and skills for a successful learning experience and a plan for reaching goals
Instruction: Models and Strategies Supporting Involved Instruction and Communication
Learn about characteristics of involved instruction and how they are represented in different distance education models (e.g., supported distance and blended learning), the teacher role, and how to provide motivating and supportive feedback on students' work

Consider how to develop teacher-created curricula and make use of Open Educational Resources (OER)

Deepen understanding of how to make best use of proprietary online curricula
Assessment: Student Participation and Progress
Build awareness of the different purposes assessment serves

Explore multiple ways to gauge learner progress, including information needed to include distance learners in the National Reporting System (NRS)
Administrative Issues: Getting Started with Distance Education
Learn how distance education is linked to WIOA guidelines and prioritized adult education initiatives

Examine issues faced by administrators in implementing and sustaining distance education programs as part of their agency's educational offerings

Better understand how to monitor data and distance education program performance
By Jenifer Vanek, Destiny Simpson, Jerome Johnston, and Leslie I. Petty. Published by World Education, 2016.
For more information about the IDEAL Consortium,
click here
Download (PDF, 2.60 MB)