Trips to the Field With Grapes for Humanity U.S.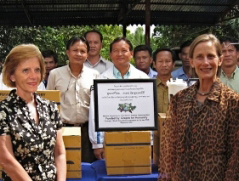 "World Education staff are dedicated and passionate about their work with survivors of landmine and unexploded ordnance (UXO). For relatively little money, World Education is able to do a tremendous amount."
- Arlene Willis, founder of Grapes for Humanity U.S.
Under a hot November sun at the Saravane Provincial Hospital in southern Laos, not far from the Ho Chi Minh Trail, Arlene Willis tells the story of how her 19-year-old brother was killed in a landmine accident in Vietnam in 1968. A gathering of over 40 Lao doctors and nurses nod their heads, recognizing that Arlene understands the suffering of thousands of Lao people who have lost children, siblings, and parents to accidents involving unexploded ordnance (UXO). Arlene is the founder and chair of Grapes for Humanity U.S., a nonprofit fundraising organization that pairs humanitarianism and a love of wine by donating proceeds from wine tastings, dinners, and auctions to causes around the world. For almost two years, Grapes for Humanity U.S. has supported World Education's programs assisting landmine survivors, a cause close to Arlene's heart.

Between 1964 and 1973, an average of one planeload of bombs was dropped every eight minutes in Laos. One-third of the bombs did not explode, leaving hundreds of thousands of unexploded ordnance hidden in the countryside and around villages. There are more than 200 UXO accidents a year in Laos, nearly half of them involving children. People often activate UXO when they clear forested land or debris near their homes, or children play with the strange tennis ball-sized "bombies" they find.

Grapes for Humanity U.S. funds have enabled World Education to purchase medical equipment, upgrade medical facilities, and provide money to pay for the medical costs of Laotians who have been injured or disabled by unexploded bombs. "We have to give back and I'm grateful that I can. There is no hard sell or strong arming to raise the funds," says Arlene, "our donors are both passionate about wine and the causes we support." Arlene is the visionary and executor of the organization's activities. To date, the organization has raised $1.7 million for 15 projects around the world.
Arlene recently traveled to Laos to witness the effects of Grapes for Humanity U.S.'s gift to support the War Victim's Medical Fund, which is one of several World Education programs in Laos that has made a significant impact in the country. The program upgrades the medical, surgical, and emergency services of district and provincial health facilities so that injured individuals have a greater chance of survival and full rehabilitation. Arlene, board member Dr. Christine Wheeler, and Arlene's husband Michael Willis visited Saravane Provincial Hospital, and met survivors who have benefited from their philanthropy. "We are so grateful that you have traveled such a distance to visit us," says Dr. Boulai, Director of Saravane Hospital. "This equipment will allow us to do surgery better and the training we receive allows us to provide better medical care for accident survivors. Thank you!"
Related Project:
Improving Trauma Care (2012-2014)