Empowering Students with Permaculture Gardens in Swaziland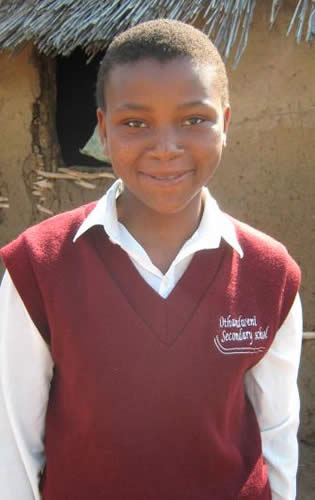 The Lubombo region of Swaziland faces two major challenges. The first relates to climate: the region has an abundance of arable land but receives minimal rainfall. The drought makes it difficult to grow nutritious food. The second major problem is the high prevalence of HIV, which has devastated the health, nutrition, and economic security of the people of Lubombo and Swaziland as a whole.

In the last few years, local homesteads in this rural area have struggled, as most people do not have access to the nutritious vegetables needed to maintain good health. Orphans and otherwise vulnerable children (OVC) affected or infected by HIV have an especially difficult time. On top of sickness and malnutrition, OVC are often heads of their households and have no source of income. The Bantwana Initiative aims to help these young people and improve nutrition in Lubombo by providing training and materials for garden construction.

Sixteen year-old Nothando is a student participating in Bantwana's permaculture garden project. She is the eldest child of three. Nothando's mother, like many in the community, does not earn enough to support her children. "Some girls resort to relationships with 'sugar daddies,'" says Nothando. "They get pregnant and drop out of school. Also, some students can't perform well in class because they are too hungry to concentrate."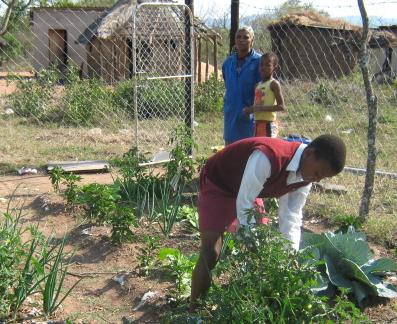 Nothando attended a Bantwana-organized permaculture workshop, where she learned how to start and manage a permaculture garden. These gardens generate income, provide nutritious food, and keep children—especially girls—from engaging in risky behaviors that compromise their future. In addition to these benefits, the permaculture gardening technique is cost-effective and environmentally friendly; conserving water, improving soil fertility, and producing 100% organic produce.

Bantwana supplies the materials to set-up the gardens and ensures the supply of seedlings, and caring adults such as teachers, guardians, and neighbors contribute time to maintain the gardens. With this support, Nothando's garden has produced a significant amount of food and income for her family.

"I no longer give my daughter money; she makes her own," says Nothando's mother. "She is also helping to feed our family. The neighbors did not think the gardens would be a success. Now they buy vegetables from us!"

Bantwana has reached more than 100 homesteads and 3,500 students in 18 schools through its permaculture garden project. Having permaculture gardens both at home and at school allows rural students who had to rely on underfunded school feeding programs for their daily meal now have something to eat. These students can provide healthy meals for their families and sell vegetables to the community. They become self-reliant, productive, and less compelled to engage in behavior that exposes them to HIV.
Related Project:
Bantwana Schools Integrated Program (BSIP) (2011-2015)