Responding to the Threat of HIV and AIDS—An Individual's Initiative to Reach out to Guinean Youth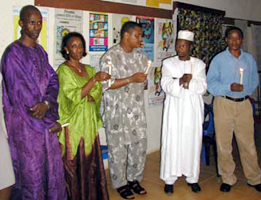 When Kadiatou Bobo Diallo attended an HIV and AIDS training with her colleagues, she had already heard a lot about AIDS. Television messages, billboards, radio announcements and Guinea's proximity to countries with higher prevalence rates make it difficult for someone to live in Conakry, Guinea and not be aware of the epidemic.

In spite of a raised awareness among the Guinean population however, most Guineans still do not have adequate access to information about HIV and AIDS and have not personalized the problem. As Kadiatou explained, "AIDS is often thought of as a sickness that concerns others." Lack of information, myths related to HIV/AIDS and cultural norms have limited information sharing among parents and their children, even among friends. "I was interested to learn more about HIV and AIDS, but I was afraid to talk about it—as if it was a bad word. Sex is taboo, and you can't talk about HIV without talking about sexuality. But to mitigate the spread of the epidemic, we have to talk about it or people will continue to die."

When World Education/Guinea's Participation Communautaire à l'Éducation de base pour l'Équité et la Qualité (PACEEQ) program launched its HIV and AIDS training for NGO partners and parents' associations, the project's staff was among the first trained. The training workshop, HIV & Development, was delivered by Africa Consultants International in partnership with local NGO Groupe Vie Saine. HIV & Development is a multi-day training module widely used throughout West Africa and designed by ACI that builds on a collective consciousness at the community level and motivates participants to respond to STI-HIV and AIDS. "I think the PACEEQ staff learned a lot about AIDS and the training broke the ice and created a forum for discussion. We even talked about HIV and AIDS outside of the training sessions since many people were surprised at the statistics, especially statistics related to Guinea. By the end of the 5-day training, I felt obligated to do something."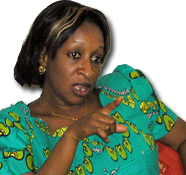 Kadiatou's personal action plan to respond to HIV targeted a group she thought to be most vulnerable—youth. "I felt that I had to do something for the young people in my life. They don't understand HIV and AIDS and its impact, and they can't talk about it with their parents." Kadiatou shared her plan with her family and friends and invited their children to attend a 5-hour informal training. She talked with youth between the ages of 7 and 24, and provided them with information and a comfortable environment in which they could ask questions and talk about HIV and AIDS. "They don't have the opportunity to talk about HIV and AIDS, it was something new for them. They were a bit timid at first but they were receptive. By the end, they were very open." Kadiatou shared statistics about HIV and AIDS in Africa and in Guinea, photocopied and distributed HIV and AIDS materials, demonstrated how to use a condom, and talked about life skills such as the importance of making good decisions.

Kadiatou has become an HIV and AIDS resource person in her family and community. She is regularly sought out by both young and old to respond to questions related to HIV and AIDS and guides them to other available resources when she is unable to provide information. "I continue to talk informally with youth and women. It's not always easy to address AIDS, but we must; we have to at least try. I feel that it's my responsibility to encourage others to protect themselves."
Related Project:
Community Participation in Education for Equity and Quality (PACEEQ) (2001-2007)