Strengthening Local Media and Empowering Women Journalists and Leaders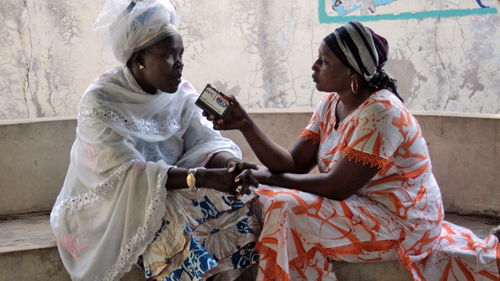 What does it take to get an electric line repaired in rural Senegal? The village of Hannene, Senegal, was without electricity for four days because of a downed wire. When the electric company ignored repeated repair requests, local reporter Amy Hanne took matters into her own hands and reported on the case. People credit her report, broadcast on the local radio station, with finally getting the attention of the electric company. A day later, the line was mended and the village's power was restored.

"I would like to thank World Education for having initiated a program based on the radio. It is important, now if we have problem to resolve, we approach our woman reporter." -Abdoulaye Wade, chauffeur in the village of Hannene.

In the Thiès and Diourbel regions of Senegal, World Education works to promote women's leadership and to strengthen local media. World Education has long recognized the reach of radio in Africa to inform people and change behavior. The USAID-funded, Women's Leadership and Civic Journalism program has mobilized 60 volunteer women journalists to become local ambassadors and leaders within their communities. With a microphone and telephone to relay stories from the field, and basic journalism training, professional and ethical conduct, gender and development themes, these women talk about what they see and report on local issues that affect their communities.

These reporters work in collaboration with Radio Guindiku FM, a local community radio station operated by partner organization ARLS. Through the program Guindiku FM has received new equipment and management, and the expanded reporting coverage of the women gives voice to development concerns and gender issues in the surrounding communities. This initiative builds upon World Education's extensive experience in establishing and supporting a network of 12 community radio stations in the Casamance region of Senegal.

A woman trained and supported by World Education in Senegal interviews a local NGO staff member for Radio Guindiku FM.World Education has adapted these models to harness media and community radio to advance local development objectives in countries across Africa. In Benin, the Girls' Education and Community Participation program organizes listener groups and works with local radio stations to develop broadcasts targeting parents, traditional leaders, local administration leaders, and education authorities with information about their responsibilities in promoting basic education. The broadcasts cover topics such as:
The importance of girls' education
Child trafficking
HIV and STD prevention and stigma reductions
The importance of birth certificates for children
Gender equity in household chores
World Education also works in northern Mali to support conflict mitigation, engaging community radio stations to increase communication for peace building. Since the beginning of the Walaikum project in 2010, 12 community radio stations in the Gao and Kidal regions have worked with women, youth, and community leaders to organize 354 broadcasts promoting peace and four participatory radio debates.

In Guinea, World Education has worked with community and rural radio stations since 2004. These initiatives included use of local radio to combat child labor and trafficking, raise awareness on issues of exploitive child labor, child trafficking, child sexual exploitation, and the importance of education, promote peace and tolerance in N'Zerekore and Macenta, and increase community participation in education and improve gender equity.

In Zimbabwe, World Education worked with radio at the national level to advance child protection. The USAID-funded Children First project developed a 26-week radio campaign in two local languages to raise awareness on children's issues and promote their rights through a weekly radio drama aired on Radio Zimbabwe. Furthermore, World Education expanded the reach of the campaign by developing interactive exercise packs and CDs, which were provided to school-based listening and discussion groups.

Through these programs, World Education harnesses the power of local media across Africa to enable communities to engage their populations to promote positive change.

World Education Senegal Country Director Abdou Sarr documented his extensive experience working with community radio for World Education in the book Les Radios Communautaires: Outils de Promotion pour la Paix, le Démocratie, la Culture et le Développement en Afrique.
Related Project:
Women's Leadership: Civic Leadership and Journalism (2010-2017)