From Student to Teacher
Anita, 20, was raised in West Bengal, India, where her father worked as a landless farmer. Deep in debt and often without food, Anita's family decided to migrate to Delhi in search of work, and they moved in with a relative in Tughlakabad village. Anita's father started a job as a daily wage laborer, but his poor health disrupted his work. To support Anita and her brother, her mother started working as a house maid.

Anita's father passed away when she was in class VII. She missed her father but was never able to talk to him - in her culture, girls do not talk to their fathers.

Anita grew very close to her mother, but she was ashamed that her mother had to become a housekeeper just to make her family's ends meet. Anita would help her mother by doing all the household chores, but she always found time to come to ABHAS to continue her education. Anita first joined ABHAS, an organization that provides quality education to disadvantaged children in India, in class 6th.
She received scholarship support from ABHAS for tuition and school materials, which provided some relief to her mother as the financial supporter of the family. Anita became part of the ConnectEd program when it first partnered with ABHAS in 2011. After Anita had attended several ConnectEd life skills and family life education sessions, both Anita and her mother realized the importance of continuing her education. Despite difficult times, Anita and her brother were both able to remain in school.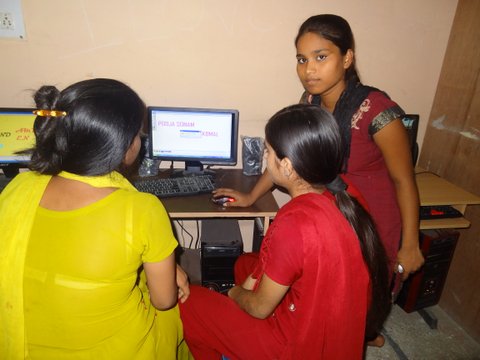 Anita's favorite hobby in high school was working on the computer in the ConnectEd ICT lab. The staff noticed her keen interest in teaching youth and ICT, and Anita was offered a job under the ConnectEd program of ABHAS just after completing her class 12th. Anita is now the ICT teacher at Chhuriya centre of ConnectEd, where she enjoys teaching children in classes 6th, 7th, and 8th. In her new teaching role, Anita supports her family's income while pursuing her University education through correspondence.

Anita's progress and commitment to learning ICT has made her a role model at the centre. "I am so proud, my little daughter is my strength," her mother says. "Thanks to ConnectEd, she has grown up to become a confident young woman."
Related Project:
ConnectEd (2011-2015)