Girls' Secondary Scholarship Program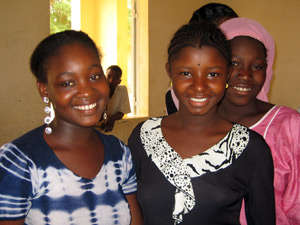 Sara Walet Mohamed has plans for her future, a future that would not be possible without the support of the Northern Mali Girls' Secondary Scholarship Program. Sara's illiterate parents never went to school and she is the fifth child in a family of eight children, only two of whom have attended school. Many of the families in Northern Mali are nomadic and parents often attach little value to education, particularly for girls, who are needed at home to perform domestic chores and often marry at a young age. One of the biggest problems is the high drop-out rate: only half of all girls remain in school beyond the first three years. At the age of fourteen, when many girls in Mali are married, she feels incredibly lucky to be a Secondary School scholar.

To help Sara and other girls like her stay in school, World Education trains local Parent Associations and Mother's Associations to work closely with schools, teachers, and local education officials to improve the quality of education for their children.

For Nanaissa Harber, each additional year of school will help to increase her likelihood of marrying later, bearing fewer, healthier children, and having more control over decisions that affect her future.
Sara's classmate, Nanaissa Harber, says the support from her parents is an important part of her motivation: "My dad encourages me a lot. He makes sure I do my writing assignments and keep up with my homework. Now, I want to become a doctor. I hope the scholarships continue so that we and our sisters can continue our studies." The heightened awareness of the importance of girls' education is evident among teachers and in communities that benefit from the program. Parents have even rearranged household chores so that daughters can get to school on time and can study in the evenings.

Despite cultural traditions, many parents do want their children to attend school but cannot afford the cost of school fees and materials. Secondary scholarships cover the cost of school fees, books, writing supplies, a school bag, a paraffin lamp, a uniform, extra coaching and study groups, which make a huge difference to girls like Nanaissa and their families.Nanaissa says: "Thanks to the scholarship, I now have the school materials I need. My proudest moment this year was when I went from 13th place in my class in the first semester, to 5th in the second semester."

To encourage local ownership of the program, World Education is also working with local businesses and wealthy community members who so far have raised enough funds for an additional 13 scholarships. The team hopes to support the girls throughout the three years of secondary school.



For Nanaissa Harber, each additional year of school will make her more likely to marry later, bear fewer, healthier children, and have control over decisions that affect her future.
Related Project:
Ambassadors' Girls' Scholarship Program (AGSP) (2004-2011)